Announcing the Field Photo Contest photo contest hosted by TravelingGeologist!
Post your photos on your Facebook, Twitter, or Instagram page with #TGPhotos2016 and your category!
There will be 3 different categories: #TGinAction, #TGLandscape #TGMacro
Submit your photos with #TGPhotos2016 and your category!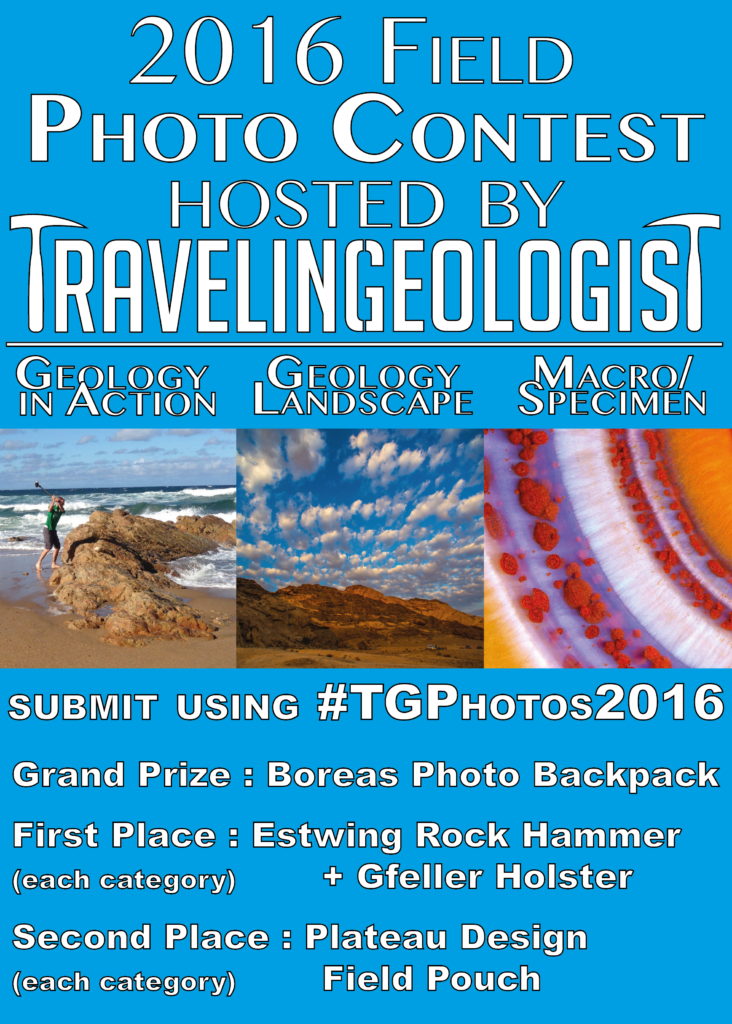 Winning photos will be chosen by the TG editorial board and will be announced during the second week of December at the American Geophysical Union Fall Meeting in San Francisco.
Legal Terms & Conditions:
YOUR RIGHTS:
You will retain all rights to any photograph you submit — including ownership if applicable. You grant TravelingGeologist rights (as described below) to your photograph if you are chosen by the competition as an honorable mention or grand prize winner.
You grant theTravelingGeologist a royalty-free, nonexclusive right, in perpetuity, to:
Use the photograph on the Internet in support of our mission.

Use the photograph in TravelingGeologist non-commercial communications.

Provide your photograph to other individuals and organizations for non-commercial use in news stories, press releases, newsletters, reports, slide shows, displays, web pages, and the like.

Use, in connection with the Photo Contest, your name, city, state, and country of residence in promotions and other publications.

Keep the files provided, and to electronically archive the images, so that your photos can be used to support our mission and be properly credited.

As conditions of this permission,TravelingGeologist shall photo credit all photographs with the person's name when possible.
By submitting images to the 2016TravelingGeologist Field Photo Contest, (hereafter referred to as "the photo contest"), participants agree to indemnify, defend and hold harmless TravelingGeologist, its respective subsidiaries, affiliates, directors, officers, employees, attorneys, agents and representatives, from any and all third party liability for any injuries, loss, claim, action, demand or damage of any kind arising from or in connection with the photo contest  (collectively, "Losses"), including without limitation any third party claim for copyright infringement or a violation of an individual's right to privacy and/or publicity right. The photo contest is void where prohibited by law.
Each participant in the photo contest (each a "Participant") is responsible for ensuring that he or she has the right to submit photos per these rules.
You agree that any and all disputes that cannot be resolved with TravelingGeologist, and causes of action arising out of or connected with the photo contest shall be resolved individually, without resort to any form of class action, before a court of competent jurisdiction located in Provo, Utah which court shall apply the laws of Utah without regard for rules of conflicts of law. IN ANY SUCH DISPUTE, PARTICIPANT SHALL NOT BE ENTITLED TO ANY PUNITIVE, SPECIAL, INDIRECT, INCIDENTAL OR CONSEQUENTIAL DAMAGES, INCLUDING WITHOUT LIMITATION ATTORNEYS' FEES, OR ANY DAMAGES OTHER THAN PARTICIPANT'S ACTUAL OUT-OF-POCKET EXPENSES (IF ANY) ASSOCIATED WITH PARTICIPATING IN NATURAL SELECTION. YOU HEREBY WAIVE ANY RIGHTS TO HAVE DAMAGES MULTIPLIED OR INCREASED. The photo contest and TravelingGeologist website are provided "as is" without warranty of any kind, either express or implied. Winners shall be selected from United States residence only. 
TravelingGeologist is not responsible for any incorrect or inaccurate information, whether caused by website users or by any equipment or programming associated with or utilized in the photo competition, or by any technical or human error that may occur in the processing of submissions to the photo contest, including but not limited to any misprints or typographical errors.TravelingGeologist assumes no responsibility for any error, omission, interruption, deletion, defect, delay in operation or transmission, communications line failure, theft or destruction or unauthorized access to, or alteration of, entries. TravelingGeologist is not responsible for any problems or technical malfunction of any telephone network or lines, computer equipment, servers, providers, computer on-line systems, software, or failure of email on account of technical problems or traffic congestion on the Internet or at any website, including injury or damage to participant's or to any other person's computer related to or resulting from participating or uploading images or information in the photo contest. 
If, for any reason, the photo contest is not capable of completion as planned due to causes beyond the control of TravelingGeologist that corrupt or affect the administration, security, fairness, integrity or proper conduct of the photo contest, TravelingGeologist reserves the right at their sole discretion to cancel, terminate, modify or suspend the photo contest.
By submitting images you agree to the terms and conditions.
ELIGIBILITY AND JUDGING:
Winning photographs will be selected by TravelingGeologist team of esteemed judges based on originality, technical excellence, composition, overall impact and artistic merit. All decisions made by the judges are final.
Some participants may be asked to submit additional information about the photographs to accompany images for publication use.
Entries must originate in digital jpg. files and be submitted electronically using the social media sites Facebook, Twitter, or Instagram using the aforementioned hashtags. Submissions may be watermarked if desired, but the watermark should be inconspicuous enough to not interfere with the judging of the photo. A watermarked photo might not be honored by the competition (at the judge's sole discretion) if the photographer is unable or unavailable to provide a pristine, watermark-free version of the image when asked.
DEADLINES:
Online entries can be uploaded starting 12:01 am GMT on 14 Nov, 2016. Deadline for submitting entries is 11:59 pm GMT on 1 December, 2016.
Entrants may be asked to supplement their submission (such as a paragraph about their photo, the highest resolution version of their photo, or a watermark-free version of their photo) anytime on or after 7 December, 2016. Finalists will be announced on or before December 16, 2016.
TravelingGeologist reserves the right to adjust any deadline(s) as the result of causes beyond its immediate control.


This work is licensed under a Creative Commons Attribution-NonCommercial-ShareAlike 4.0 International License.