The capital of England might not seem as geologically significant as the Grand Canyon due to their urban infrastructure, but with all the geological walks put together by the University College London (UCL) and all the geodiversity protection organizations, it shows that "London has a very rich and varied geology in the built environment, allowing us to see a wide range of beautiful and interesting stone from all over the world in a relatively small area."
Some may think that the geology of London might not be as complex or captivating as destinations with beautiful rocky formations, mainly because it is a metropolitan area. The capital is primarily known for Shakespeare, red telephone booths, Buckingham Palace and Heathrow, which is the busiest airport in the UK and the third in the world. But underneath the concrete, buried in the soil, you'll discover that London has a deeper story to tell beyond its surface.
To support the geological development of the region, UCL will be hosting the Festival of Geology 2015 on Saturday, November 7, where people can examine the exhibits of fossil and mineral displays, stonecraft, maps, jewelry, geological equipment and much more. Children can enter the Discovery Room and participate in plenty of activities, such as interacting with fossils, racing trilobites, and Jurassic dioramas, just to name a few. Talks will be going on throughout the event, one of which will be taken by Mike Searle, a Professor of Earth Sciences at the University of Oxford, who will be discussing the geological evolution over 50 million years with particular focus on the earthquakes and mountains that litter the Himalayas. UCL Professor of Paleobiology Paul Upchurch will also speak at the festival, sharing new perspectives on the extinction of dinosaurs and University of Plymouth Professor Iain Stewart will discuss the perils of earthquakes.
Field trips and walks in different parts of London are also available for guests to join and are occurring throughout the weekend, although some require a small fee for participation. There's also an amateur photography competition where the winners will receive cash prizes.
Festival of Geology 2015 is free to attend, and will start at 10:30am and end at 4:30pm.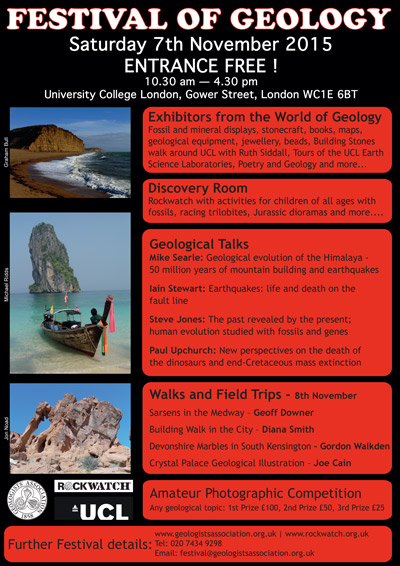 This work is licensed under a Creative Commons Attribution-NonCommercial-ShareAlike 4.0 International License.