Looking for rocks in the jungle 
by Jon Pownall
Jon recently finished his PhD with the SE Asia Research Group at Royal Holloway (supervised by Prof. Robert Hall) and has since started a post-doc at the Australian National University in Canberra, Australia.
In September 2010 I travelled to the island of Ambon, eastern Indonesia, with Ian Watkinson (SE Asia Research Group, Royal Holloway) and Yasinto Priastomo (ITB, Bandung, Java) to get to work on my PhD investigating the recent tectonic and metamorphic history of the northern Banda Arc.

 

We would be focussing on the larger, densely rainforested and mountainous island of Seram – which I later found out means 'Scary' or 'Spooky' in Indonesian – which is half a days journey, via a rusty ferry, from the busy streets of Ambon city.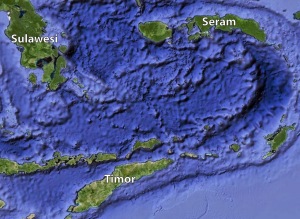 Islands around the Banda Sea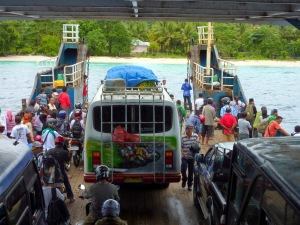 Onboard the ferry from Ambon to Seram
Before my visit to Seram, I made the mistake of watching an old Ray Mears documentary
about the Nuaulu people who live in the interior island, and had (apparently) gained a reputation for decapitating foreign visitors.

 

Needless to say, I would have an amazing time with the friendly, generous, and extremely skilled people of Seram.

 

And I still have my head.

 

Although I very nearly walked into one of those animal snare traps that Ray warned me about.
There had been relatively little previous work carried out on Seram, so the initial aims of my PhD were pretty broad.

 

It became obvious that some re-mapping was needed, and that I'd need to collect lots of rocks to post back to Egham (an uninspiring town near Staines) to determine some ages (U-Pb zircon and Ar-Ar), and to calculate various pressures and temperatures of metamorphism.

 

The initial trip to Seram was not what I had expected; the jungle allowed only frustratingly slow progress to be made up slippery rivers; I also needed to drastically re-define what I considered a 'good outcrop'.

 

The jungle was not a fun-filled place with monkeys swinging about like you see in films and wildlife documentaries – it's just a big, wet, forest infested with various noisy insects and plants that hurt you.

 

Wading up the streams and clambering over boulders was so much more enjoyable than struggling through the suspiciously-warm muds and swampy waters of the forest.

 
Luckily, the coast of Seram is spectacular, with some pretty good outcrops too.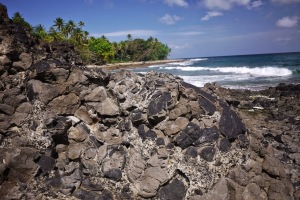 Amazing pillow basalts, SW Ambon
In the summer of 2011, I returned to Seram and Ambon with Yasinto for a 2-and-a-bit month stint.

 

I attempted to make a record of the main field season by writing this blog, if you want to find out more…
http://seramblog.wordpress.com
We started in western Seram, examining the relationship between peridotites, unusual cordierite + garnet granitic rocks, and various garnet- to sillimanite-grade schists and gneisses.

 

We stayed at the small guest-house in Piru we had found the previous September with Ian, where we enjoyed many fish- and rice-based breakfasts with sugary tea.

 

Awaking to Indonesia pop-music played full-volume from next door's outdoor speakers at sunrise was usually how the days started.

 

Although on the first morning, I was also greeted by a few hundred ants who had found a home in the head of the shower.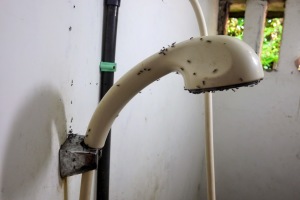 A horrible surprise lurked in the shower…
We somehow managed to hire the village's rescue boat (at least that's what was printed on the side) to access the remote Kaibobo Peninsula that has been the subject of some previous work.

 
Kaibobo Village, accessible only by boat, was out home for the week, and we were made vary welcome by the Lasatira family who told us that they recently had some geologists visit them (in 1992!).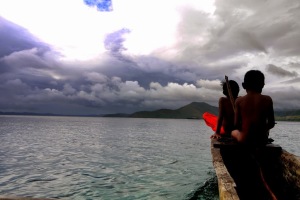 Exploring the Kaibobo Peninsula with Leo and Juan Lasatira
The Kaibobo Peninsula, in particular, was home to some massive spiders, and also, as I found out afterwards, some pretty big crocodiles who like to spend time in the mangrove swamps we had to wade through to get back to the boat at low tide.
Our car journeys further west usually thwarted by collapsed bridges or washed out roads.

 

The single road that connected the north and south coasts of the island was especially risky(!)…
It had been my plan to access the remote Kobipoto Moutains of central Seram, because high-grade metamorphic rocks and ultramafics had been described there by a University of London expedition in the 1970s (Audley-Charles et al., 1979).

 

However, with no road access, this required a week-long trip on foot into the interior.

 

Thoughts of that Ray Mears documentary came to mind, but we decided nevertheless to give it a go.

 

We found a couple of local guys to help carry a sack-load of rice and instant noodles (and a few bottles of chilli sauce) to the village of Roho, hoping that we'd have a welcome reception.

 

Incidentally, the village is on the little-used treking route to Mt Binaiya (3027 m), the tallest on Seram, which apparently Bill Bailey once climbed, so the villages were used to strange-looking travellers.

 

They were, however, slightly puzzled when we told them we wanted not to climb Binaiya, but head up some rivers looking for rocks.

 

After a night in Roho sleeping on a solid wooden platform, we ventured further into the forest before making an early camp due to a rain storm (to protect the rice, not ourselves!) just short of the river we were hoping to reach.
As Ray had taught me, I whittled on some bamboo to make a nice big pile of dry kindling for the fire; however, it turned out that petrol was now the fire-lighting method of choice on Seram.

 

The locals laughed at my efforts.

 

Ray would have cried.

 

Then I spent a surprisingly cold night sleeping on a rolled-out piece of bark.
The next morning, we reached the stream and I spent the day examining various boulders (unfortunately, zero proper outcrop!).

 

That night, we enjoyed delicious freshly-caught prawns from the river to break up the monotony of boiled rice + noodles.
The return journey was tough (collected too many rocks!), and with the weight I crashed through a make-shift bridge of rotten logs into the stream-gully beneath.

 

We got back to the road a few days later, happy with what we'd found but exhaused, and vowed never to return.

 
So in September 2012, I stumbled back into the Kobipoto Mountains with Ramadhan Adhitama (ITB) to try and found more rocks (and ideally some real outcrop).

 

This time, torrential rain frequently flooded the rivers, and hampered our progress into the mountains.

 

I also got deliriously sick from something (there's a various number of possible causes!) and we had to return to Roho earlier than planned. Nevertheless, we returned with a better idea of what was going on and a few more stories to tell.
I suppose I haven't really said much about the geology… In summary, Seram has some very young and very hot granulites (as found in the Kobipoto Mountains, so it was definitely worth the walk!) that must have formed in response to a massive amount of crustal extension – see Pownall et al. (2013, 2014) to find out more…


This work is licensed under a Creative Commons Attribution-NonCommercial-ShareAlike 4.0 International License.