In addition to the famous angular unconformity seen near Lochranza on the Isle of Arran, Hutton also made an important discovery concerning the emplacement of plutonic systems. The Isle of Arran is cored by a large circular granitic pluton. This Tertiary-age pluton is rimmed by the steeply dipping Dalradian Supergroup and the Old Red Sandstone.
Recounting when James Hutton had witnessed this relationship he wrote:
"Here I had the satisfaction to find the immediate junction of the schistus with the granite, in the solid rock, exposed perfectly to view, and that in both of these rivulets, a little way above their junction. Nothing can be more evident than that here the schistus had been broken and invaded by the granite; as in this place the regular stratification of the vertical schistus is broken obliquely by the other rock … (Theory of the Earth, 3. p. 221)".
This discovery caused no small stir among the scientific community as this clearly threatened the Neptunist theory of the Earth which stated that rocks were formed from the crystallization of minerals in the early oceans, of which granite was considered the most primitive. To defend the Neptunist theory a separate excursion to this locality was run by Robert Jamieson who was an ardent critic of James Hutton. When he found the granite/schistus contact he remarked that "it presented nothing remarkable" as he interpreted it as representing merely primary rocks (granite) transitioning to secondary and teritary rocks (schistus and sandstone). Nonetheless, Hutton's initial interpretation that the granite penetrated through the (meta)sedimentary rocks has stood the test of time and currently represents the dominant hypothesis for the emplacement of the granite and the deformation of the (meta)sedimentary rocks on the Isle of Arran. Similar relationship are observed in places all over the globe.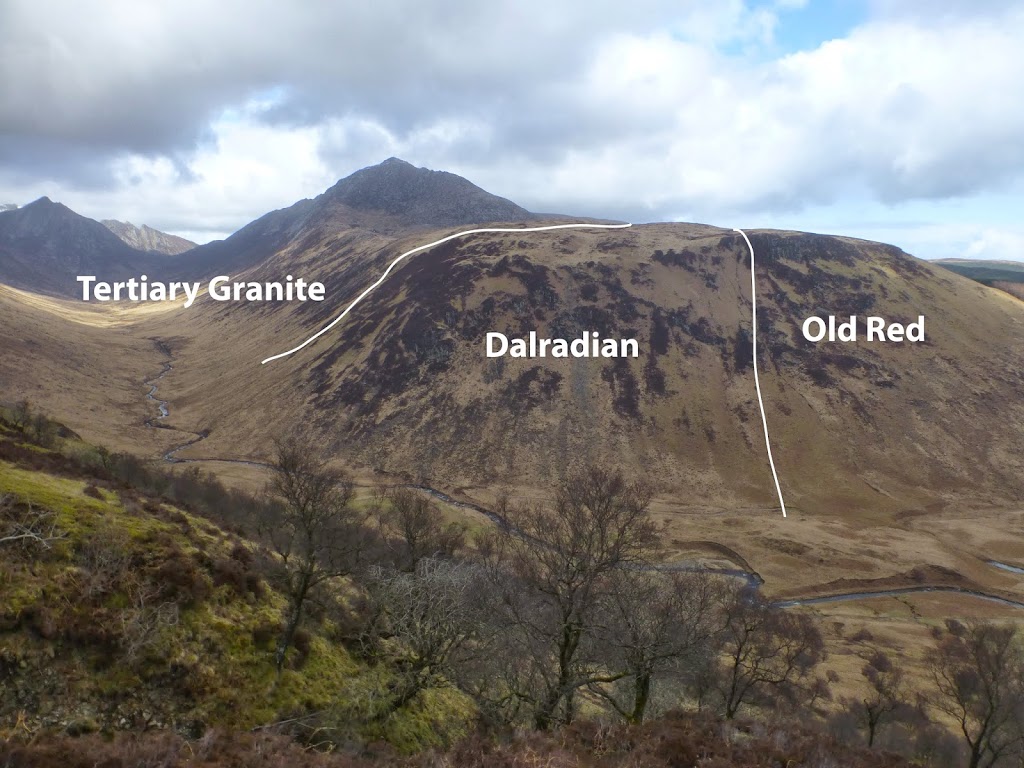 View of Glen Rosa and Goatfell with the steeply dipping Dalradian and Old Red Sandstone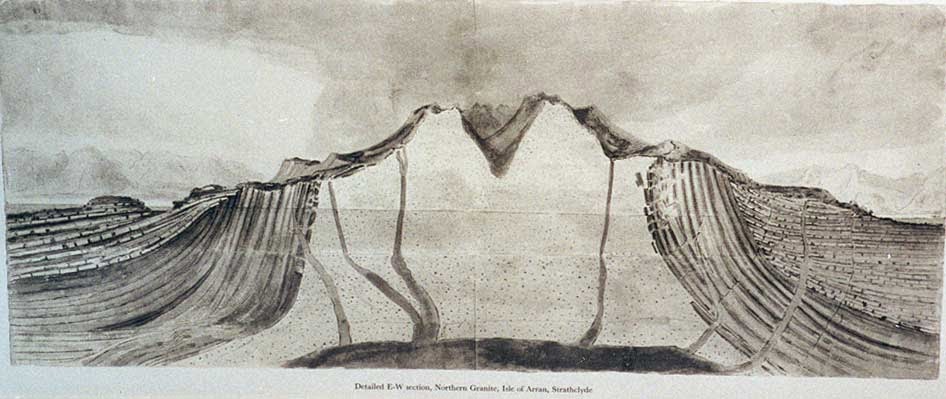 Water color painting done by James Hutton of the Tertiary granite and 
steeply dipping (meta)sedimentary rocks on the Isle of Arran.


This work is licensed under a Creative Commons Attribution-NonCommercial-ShareAlike 4.0 International License.