As a geology student, I lived for field trips. It didn't matter whether we walked up Rock Canyon or flew over the Himalaya, being amongst the rocks was the paramount experience of every class. Although I have now ended my student phase, nothing has changed. I belong in the field. As I transition from the past 10 years of being a student, I hope emulate my teachers in sharing my love of geology in the field.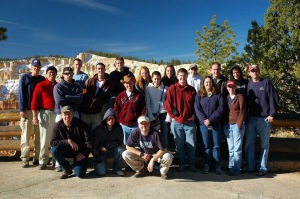 2007 Geomorphology Field Trip with Gene Clark to the Grand Staircase
The Grand Staircase is an incredible sequence of strata that extends from the Paleoproterozoic Vishnu and Brahma Schist in the Grand Canyon to the Eocene Claron Formation of Bryce Canyon, covering over 1.7 billion years of geologic history and is over two miles thick. This region has some of the most spectacular geology in the world. The Grand Staircase National Monument has a special place in my heart. I spent much of my childhood exploring the red rock canyons and fishing in the crystal streams. Growing up amongst such spectacular geology played an important role in my pursuit of a career as a geologist.

In the 1870s, geologist Clarence Dutton first conceptualized this region as a huge stairway ascending out of the bottom of the Grand Canyon northward with the cliff edge of each layer forming giant steps. Dutton divided this layer cake of Earth history into five steps that he colorfully named Pink Cliffs, Grey Cliffs, White Cliffs, Vermilion Cliffs, and Chocolate Cliffs. Since then, modern geologists have further divided Dutton's steps into individual rock formations.

Red dots from left to right: Pink Cliffs, Grey Cliffs, White Cliffs, Vermilion Cliffs, Chocolate Cliffs. Image from the National Park Service
Thanks to The Good Line for this spectacular footage. See their other videos here. Enjoy.
The following photographs represent the past 10 years of my geological explorations.
Thanks to all the educators and friends who have guided me through this geological wonderland.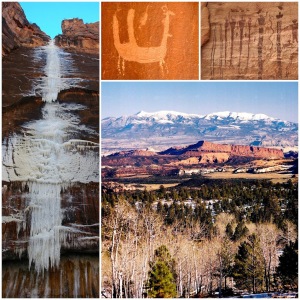 Clockwise from left: Frozen waterfall in Zion National Park, Bactrian camel (?) petroglyph near Moab, petroglyphs in the Arches National Park, view of the Henry Mountains and Capitol Reef.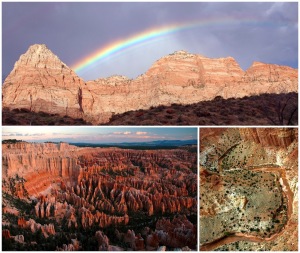 Top: Zion NP, left: Bryce Canyon NP, right: Sulfur Creek Capitol Reef NP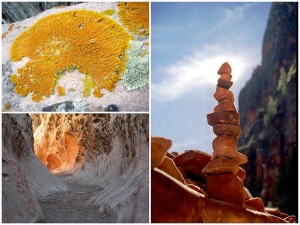 Clockwise from top left: lichen, CRNP; cairn, ZNP; Wild Horse Canyon, San Rafael Swell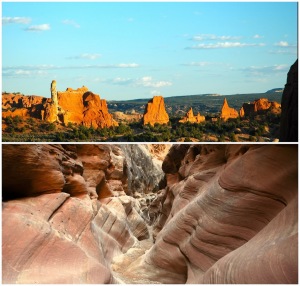 Top: Kodachrome basin; Yin-Yang canyon, San Rafael Swell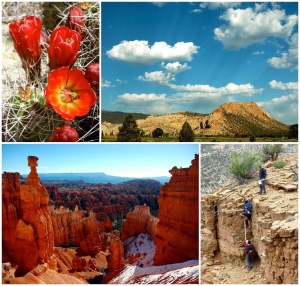 Clockwise from top left: cactus flower, the Cockscomb, Capitol Reef NP, clever students using a Jacob's staff as a ladder, Thor's Hammer, Bryce Canyon NP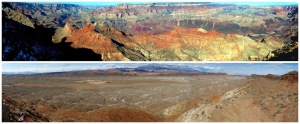 Top: South rim of the Grand Canyon, bottom: Virgin anticline and Pine Valley Mountains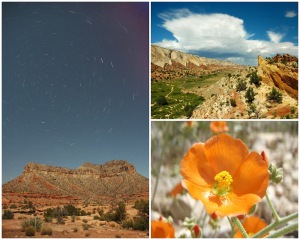 Left: Polaris over Toroweap Point, GCNP; Halls Creek, CRNP; flower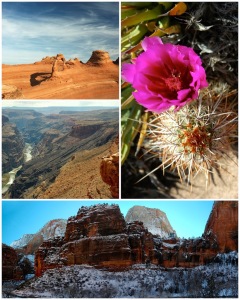 Clockwise from top left: Delicate Arch; cactus flower; Temple of Sinawava, ZNP; lava falls at Vulcan's Throne, GCNP


This work is licensed under a Creative Commons Attribution-NonCommercial-ShareAlike 4.0 International License.