This weeks fab five comes from my old stomping grounds: the Colorado Plateau.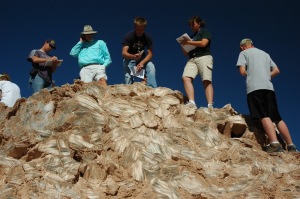 Prof. Tom Morris (in the aquamarine shirt) standing atop Glass Mountain in Capitol Reef National Park, Utah.
Glass Mountain is a large diapir of selenite. Selenite is a variety of gypsum (CaSO4•2H2O) in the form of glassy crystals. Glass Mountain formed as a result of groundwater flowing through the Entrada Sandstone. Some of the selenite collected from the region stand over a meter tall and 30 cm across.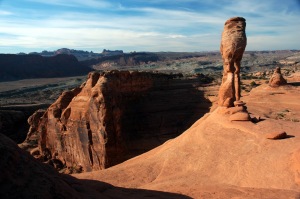 Side on view of Delicate Arch in Arches National Park, Utah. These arches were formed as fractures in the Entrada sandstone formed during the Laramide orogeny in the Cretaceous. Groundwater subsequent flowed through these fractures dissolving the cement holding the sand grains together. Once these fractures were exposed at the surface, the loose uncemented sand nearest the fractures was blown and washed away leaving only the arches we see today.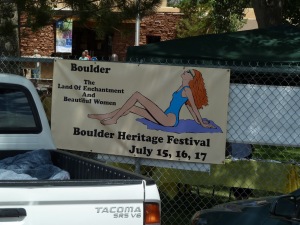 Boulder, Utah: quite possibly the greatest inside joke ever.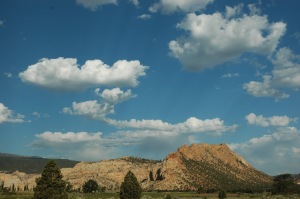 The Cockscomb, Teasdale, Utah
If you have five fabulous pictures of a particularly spectacular place shoot me an email to contribute for the next Friday's Fab Five.


This work is licensed under a Creative Commons Attribution-NonCommercial-ShareAlike 4.0 International License.